Testimonials
Simon Trumper (Poker Professional)
When I go deep in a tournament, I can be sitting at the poker table for hours. This puts strain on my neck and lower back. With the high pressure to perform on the poker circuit and running Europes biggest live poker club, I can't be distracted by discomfort. To make sure I'm performing at my best, I get my spine adjusted by Ashley Burn at Holly Cottage Chiropractic Clinic.
---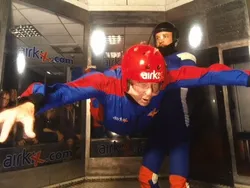 Holly Cottage have been helping to keep Mr Jones fit and mobile since 1992. To celebrate his 80th birthday, he decided to do an indoor skydive!!
---
Adam Christodoulou (Formula Renault driving champion 2008/09)
In professional racing your always pushing yourself and your car to the limit. I need to know that my body is working to it's full potential and is as finely tuned as my car. This is why I have my spine looked after by Trine Hansen at Holly Cottage.
---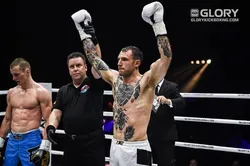 In the past I have had injuries that I chose to ignore because I'm training for a competition and didn't want to be told I couldn't compete. Since meeting Ash, he has completely changed my way of thinking, treating any problems I have and giving me expert guidance which allows me to continue training and manage my injury to complete recovery.
Roughly 3 weeks out from the biggest fight of my career, I suffered a neck injury that left me unable to train. I couldn't turn my neck or shoulders without being in pain, which made punching and kicking extremely difficult.
Ash sorted out my problem in only a couple of sessions and also gave me guidance on further injury I had. If I have any problems in training camp I know I can go straight to Ash and I will be back into training at full capacity in no time at all.
---
Charlotte Hovring (International Curling team member participated in Olympic games, World and European championships)
In curling balance is everything. My muscles needs to work at their best to control my posture on the ice whilst delivering the stone. I want to focus 100% on my performance and not be worried about injuries. To achieve this my spine has to be perfectly aligned which is why I see Trine on a regular basis for chiropractic care.
---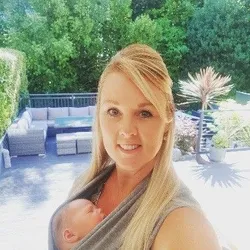 Highly recommend the Webster Technique for mummies to be!
Pregnant with my first child at 40, I discovered at 34 weeks that baby was breech and had been breech for the majority of my pregnancy. The midwife suggested I try moxibustion (a traditional Chinese therapy) unfortunately this did not work. At 36 weeks the hospital consultant suggested manually turning my baby but this was not something I was personally comfortable with, so at this point I was booked in for a C-section for 39 weeks as the medical team advised, in their experience, it was highly unlikely that baby would turn this late into the pregnancy, especially as baby's growth had been tracking in the top percentile and the fact that baby had been breach for so long. As a first-time mummy to be, I was very upset at the thought of a C-section as this was never part of my birth plan!
Trine Hansen at Holly Cottage Chiropractic Clinic has been treating me for many years for a chronic back issue and had also been treating me throughout my pregnancy. When I informed her that baby was breach she suggested trying the Webster Technique.
Thinking, I have nothing to lose, Trine started treating me at 37 weeks. After two treatments I went to the maternity unit for a routine growth scan at 38+5 weeks only to discover that the baby had turned!!!! As a result, my C-section was cancelled and I went on to have a natural delivery. I gave birth to a little girl, Harper Grace on 4th of July, weighing 8lb 14oz.
I wanted to share my story with any mummies to be who may find themselves in the same situation as me, in the hope that Trine may be able to help you too! I highly recommend Trine Hansen for any mummies to be.
Amanda Diplock
---
In February 2015 I was walking back to New Street Station when I experienced excruciating pain in my left hip area. When I arrived home, I had difficulty sitting down, standing up, and claiming the stairs. I had never had any difficulty walking before this happened.
I thought it would disappear overnight. It continued. Eventually after several visits to the GP, I was prescribed strong pain killers and a scan for my hips. This took place in April. After the result, I was told that there was nothing wrong with my hip joints, which was good news, but possible severe degeneration at the base of my spine and the only treatment would be more painkillers and possible physiotherapy.
A friend of mine recommended Holly Cottage. I came in May 2015 to see Sarah Hawkesworth. I had three x-rays and they showed no degeneration at the base of my spine, which was good news indeed. The problem was sever muscular strain. I have always been a keen gardener and at the beginning of the year I had possibly been a bit too enthusiastic.
As I also love being outdoors and walking the thought of taking any more painkillers and being limited physically had come as somewhat of a blow. Sarah was so reassuring about being able to help and I began a course of treatment with her, along with exercises I could do at home, at first on twice a week basis, until I began to notice steady improvement. I no longer took painkillers. Then my appointments became 4 weekly through 2016.
I marked significant improvements to encourage myself that eventually I would be able to walk longer distances. I was gradually able to walk a little further without pain, and the time between sessions increased. I now go for a "top up" and a check in on how I have been managing.
Last year, in May 2017, I had a real achievement, as I managed my favourite walk along the SW coastal path from Lizard Village to Kynance Cove and back again. Obviously with stops here and there, as it is a cliff walk and there are lots of ups and downs so I have to make sure that I do not overdo it. I am now in my 70th year and a huge thakyou to Sarah for giving me my life back again.
Viv Sellers
---
Three months into my pregnancy, I started suffering with pelvic girdle pain which made it increasingly difficult for me to walk. My doctor referred me to a physiotherapist who spent a minute with me before handing me a pair of crutches. I was told that there was nothing further the NHS could do for me, that no amount of physiotherapy would help me and that the pain was only going to get worse as my baby grew inside me.
Following this, I was signed off sick for the first time in my life. Being a full time teacher and a mother of two young children, my life was extremely busy. However, I now found myself sitting at home, unable to work, unable to take steps without my crutches and unable to care for my children.
With five months left until my baby was due to be born, I became depressed feeling completely dependent on my husband and my children. As I was unable to dress myself, I was heavily reliant on my husband. My 6 year old son had to help me to put my shoes on and both he and my daughter, 8, had to carry out all the household chores.
Towards the end of my fifth month, I had a new midwife who immediately recommended Trine at Holly Cottage. As I had always been healthy and fit, I had never heard of a chiropractor and was unsure of the treatment that was involved. I was very sceptical as both the physiotherapist and the doctor had told me that nothing could be done to reduce my pain. However, through desperation, I agree to attend the consultation.
Upon meeting Trine, I was blown away by the honesty that she offered about my condition. She told me that she probably couldn't get rid of the pain (not many chiropractors will admit that) but she did say that she might be able to reduce it. Reluctantly, I agreed to pay for a session just so that I could have peace of mind that I had tried everything that had been offered to me. After 15 minutes of treatment, Trine asked me to take a few steps. This was the first time in 3 months that I had been able to take a walk without my crutches even if it was only a few steps. Even at this point, Trine very honestly told me that within the next 5 minutes, the pain would return. It certainly did but just that one minute of relief was enough for me book another appointment.
In the next few months, to my amazement, I continued to go from strength to strength. Coming twice a week, I became a regular face at the clinic who saw me going from someone who was struggling to walk, even with crutches, to someone who was then able to walk unaided via the front door! It was a real achievement walking up the steps to the clinic. My family and friends also noticed a huge difference in my mood, I was a lot happier and more independent.
In the last two months of my pregnancy, when I was at my heaviest and when I should have been in more pain, I was actually walking without the crutches and was pain free. I continued my treatment up until the week that I gave birth. Even Trine herself was amazed at how my body responded to the treatment.
On May 5th 2016, I gave birth to my beautiful baby daughter, Harmarni, and have not experienced any problems with my pelvis. I cannot thank Trine enough who, without realising, became my light at the end of the tunnel. Trine gave me my life back! She showed a genuine concern in my health and this goes beyond the service I paid for. I would also like to thank Sandra who helped to support me emotionally through such a difficult time. During such times, she offered to rearrange appointments to fit me in and offered a reassuring voice on the other end of the phone when I was in pain. Again, this goes beyond her call of duty which shows how much the staff at this clinic really care. They made a huge difference to my life and I have and will continue to recommend this clinic to everyone I meet!
- Sandeep Chera
---
I would like to express my thanks and appreciation to the members of the practice for the care and attention given me and my late husband over a period of 15 years. As teachers we were accustomed to many hours of standing and also sitting and working at desks and computers resulting in frequent back and posture problems.
We knew we could call the practice and receive friendly and sound advice and appropriate treatment as necessary. It was therefore the obvious choice to contact in 2013 when I unexpectedly developed severe knee pain just before the Easter holiday when the clinic would be closed. Telephone advice from Jonathan helped and an appointment was found as soon as the practice opened. The problem was soon diagnosed and after 6 months of treatment and exercises I am now pleased to say that there has been no recurrence and with regular maintenance treatments the condition is now under control.
I would recommend Holly Cottage Chiropractic Clinic as first point of contact for advice and treatment of your pains.
Thank you Jonathan Spodofora
- Pat Wilson
---
I was referred to Sarah by a consultant over 10 years ago. After spending several years feeling in limbo I finally felt I had met someone who was listening to me. Sarah made me feel supported as she helped me reduce the pain and discomfort I was in. This was a slow process but definitely one worth pursuing! I have continued regular treatment with Sarah over years to maintain my mobility and to try to keep my pain to a minimum. Sarah has always made me feel comfortable to discuss the problems with my back and various joints and offered advice on stretches that could help relieve them.
Sarah has helped me get trough two pregnancies which did have their issues but these would have occurred a lot sooner without treatment and support.
I would recommend Sarah to anyone looking for a chiropractor as I'm so thankful for the treatment and support I have received.
Jo Cornelius
---
I was referred to Ashley several years ago for pain in my arm and neck. That was the point when I not only recieved excellent care but started to understand and be educated as to how important the spine and care of our back is. Ashley is very patient and knowledgeable and explains not only what he is doing in terms of the manipulation but also the anatomical reasons for why my pain was occurring. From that and the exercises I have improved my posture and no longer experience the pins and needles and pain in my arm and neck.
I went back last year, when I started to experience extreme pain in my buttock and leg. After several visits Ashley was concerned that I was not demonstrating the required improvement so it was at his suggestion I went back and saw a consultant- 6 months on from major surgery I still see Ashley for my post op care and have absolute trust in what he is doing and also now have a greater respect for my own spine and also watch how my husband and daughters treat their spine and back.
Chiropractic interventions are not just for pain but can also provide you with learning's for life and improved health and wellbeing.
- Liz C. / Sales Director
---
This is a letter to thank Holly Cottage Chiropractic Clinic for helping me with my back. I have had a back problem for over 20 years which has been caused by a slipped disc many years ago, and over the years wear and tear has had an impact. I have been in a lot of pain for years; the doctors did their best sending me for scans and giving me exercises, but this never really helped. Recently they said there is nothing more they could do and to keep taking the pain killers.
Holly Cottage has helped me get my life back and this time I have been with you I have not had to take any pain killers and my back pain has eased and is manageable with the exercises and advice which has really helped.
A big thank you to Sarah Hawkesworth and Holly Cottage Chiropractic Clinic for all your help in getting me a pain free back which helps me get my life back with a smile.
---
Having suffered increasing pain with sciatica over an eight week period, I finally came to see Lee at Holly Cottage. Straight away I was put at ease by her quiet, unassuming but very professional manner. She listened intently and asked relevant questions and I knew I was in safe hands! She then calmly and efficiently explained what was wrong and how she could help.
With her guidance and understanding, within two weeks, I was back to walking, gardening and going u and down stairs "normally".
Now after three weeks of treatment and the correct gentle exercises suggested by Lee, I am able to lead an active life once again.
Throughout, Lee has been very supportive, caring and extremely professional.
Quite simply, Lee has given me back my quality of life.
Thank you Lee, You are truly amazing!
-Carole Shaw
---
Tom helped me a lot as I came in for the first time with some upper back and neck pain due to the nature of my work sitting down all day. Not only did he fix the issue I had, but also gave some realistic expectations and tips on ensuring I don't get this pain in the future. Definitely recommended!
---
For many years I have tried to go jogging but have not been able to, due to pains in my lower abdominal musculature. The pain was so intense and would stop me running immediatley. This led to me avoiding running as part of my training, forcing me to use the exercise bike or cross trainer instead.
I was on the verge of giving up running completely when I heard about FootLevelers at Holly Cottage Chiropractic Clinic. Alongside adjustments from Trine Hansen I have been using FootLevelers for 3 months. It turns out mechanical problems in my feet were causing postural strain on my lower back, pelvis and abdominal musculature resulting in pain whilst running. Once this was corrected my body was able to cope with the stresses of running.
Today I can now run for 30 minutes with no problems. The pain in the abdomen and foot has fully resolved. For me this is an achievement I never thought I would accomplish.
I am looking forward to seeing my progress over the next 3,6 and 9 months as my body adapts to the orthotics and adjustments. The results so far have changed my life greatly and I could not be happier!
Thank you FootLevelers and Trine Hansen DC.
-Kristine H
---
Hey Sarah
As you know my knees are rubbish, and with a back fracture and shoulder injury I never thought I'd get to Kala Patthar (5600m) and to Everest Base Camp (5300m) carrying my own kit and in supported. But I did. You were with me every time I tightened my rucksack and every time I stretched my legs and back out in the plywood bedrooms I stayed at, sometimes trekking 6-12 hours a day.
Here's to the next adventure ; ) Thank you for getting me there x
-Lisa
---
Newcastle to London August 2015 in 24 hrs. It could not be possible without Jonathans fantastic knowledge, commitment, professionalism and medical expertise. I often breakdown and he puts me back together.
To all who work here I thank you so much. I could not do my charity cycle rides and go to work without you all!
A massive thank you Jonathan
Best wishes
-Simon
---
Three years ago I was in constant pain from my hip. I was going to the doctors constantly and was just given pain killers.
My last hope was Chiropractic. I attended Holly Cottage and under Mr Ashley Burn after 6 month intensive treatment my walking was 90 per cent improved with minimal pain. I now attend every 3 months for maintenance. I recommend chiropractic to anyone.
---
A recent troublesome back caused by a muscular problem was quickly resolved by Lee. The attention was very efficient, friendly and effective.
Kind Regards
-Roy Jesson
---
Tom was fantastic and helped me get pain free very quickly. I had a cervical herniated disc, C5, and was in pain for months until I came to Tom and he sorted it out. He gave me various exercises to do at home. Don't suffer in pain, come to Tom! Keep up the good work mate.
---
I wish to say that Steve is my Miracle Man! I have had two serious falls, which caused my left shoulder to drop and injuries to my back, but luckily no broken bones. Steve has given me more movement and eased a lot of my pain. I always have a good night sleep after my visits on Fridays!
I have already recommended friends to get appointments!
I wish Steve and the receptionists all the very best, as they are always friendly and helpful!
- Ena Hodgkisson
---
I met Jonathan through my daughter who was recommended to Holly Cottage Chiropractic Clinic. Before I met Jonathan I was diagnosed with spondylitis and osteoporosis in my spine which was making my life unbearable at times. At first I was a bit apprehensive as to whether the treatment would help my condition, the reason that I decided to see him was the improvement in my daughters health. I decided that I would give it a try to help me manage my problem, and I am so very glad I made that decision for my health has improved so very much that I am able to manage my problem and refrain from excess pain medication.
---
Thanks to the staff also who always try to accommodate my problem when they arise.
Thank you one and all.
- Joyce M Mckay
---
Last year I started to have foot and back pain. I went to see a podiatrist who referred me to Holly Cottage. Trine Hansen is very professional and she gave me the choice to have an x-ray. Very quickly Trine has improved the problem with my foot and my back and I can now walk without pain. To compliment my chiropractic treatment with Trine, she suggested I go to Karen for rehabilitation Pilates. Because this is on one to one basis I have benefitted from Karen's experience and found it very beneficial not only for my back, but for my general wellbeing as well.
---
- Lynda H.
---
Two years ago, after an accident at work, I developed neck pain and some other related symptoms. I sought medical attention and received little help. I suffered a few weeks of pain and discomfort.
A friend suggested I visit Holly Cottage as she had been helped previously. I contacted Holly Cottage and was given an immediate appointment. I was sceptical as to the success of the treatment but after one session with Trine Hansen there was an improvement in my condition due to her thorough investigation and treatment of my problems. With the ongoing support and treatment, the trapped nerves in my neck and muscle spasms were sorted out. I am now able to use the exercises shown to me to help if I feel the pain coming on. I know that if I need any further help it is just a phone call away. All of the staff there are very helpful. I would recommend anyone with neck, back or related problems to contact Holly Cottage. Many thanks to Trine for all her help, advice and support.
---
---
I have known John Lange for several years and been most effectively treated by him for neck pain and lower back problems. He is always polite and professional, and I have been happy to recommend him to my patients and friends.
- Dr Lizzie S. / General Practitioner, North Birmingham
---
For months I had been suffering from low back and groin pain. It was affecting both my work and sporting activities. The team at Holly Cottage took the time to find the cause of the problem and since undergoing care I have been back to my normal self, playing football on a regular basis.
---
Thank you for helping me out of trouble!
- Ben S
---
This place is great! Tom explained things well and the treatment is top notch. I've grown up with chiropractic but it has been quite some time since I had treatment. I injured my back and all the Dr wanted to do was prescribe drugs. I just had my 4th adjustment and I'm already so much better! The staff is friendly too!
---
suffered from a slipped disc which happened a number of years ago and as you can see I do a manual job. Thanks to John Lange I still do a full time manual job and live a normal life. I see John on a monthly basis for one session and this keeps me mobile. If I have a relapse John is always there to help me through with a few extra sessions. If it wasn't for John I don't know what would have happened to my mobility.
Keith F. / Garage Proprietor, Birmingham
---
Working in IT, I sit at my desk for most of the day. This was causing terrible upper back and neck pain, making it difficult to consentrate at work. Since getting regular adjustments at Holly Cottage this is no longer a problem and I can now focus on my work rahter than my pain!!
---
Thanks Holly Cottage! See you next month for my adjustment.
- Lenn Solheim
---
Dear Emma
I just wanted to say a proper 'thank you' for your part in getting this old woman's body round the London Marathon in one piece! I have no doubt that the (sometimes painful!) sessions contributed hugely to my very quick recovery, and, I'm sure, of my overall performance (which I was very satisfied with). Thank you too, for your encouragement and support. It was an emotional experience and I am so, so glad I did it!
- love Wendy
---
Getting old is certainly no picnic. Everyday tasks seem to get harder, they seem to take longer, the floor seems to be further away, and bits of the body and mind seem to be getting tired and worn. I therefore count my blessings that I am an active 75 year-old, not yet ready for a zimmer frame. I try to do all the right things to stay fit and well and this has included regular help from the staff at Holly Cottage over many years. Many chiropractors, and especially the present practitioners, have helped enormously in keeping me mobile. More than once "a stretch in time" has saved an awful lot of aggravation! They have used their skill and expertice to overcome the inevitable aches and pains of advancing years which would otherwise have been frustrating obstacles to me. I am so grateful for all their help to keep me able to do so many of the things I want to do.
- Mrs E
---
Highly recommended and suggest you speak to Tom if you have sports or lower back problems. Very well spoken and knowledgeable. Thanks for all your help and fixing me up.
---
As a GP and patient I value the care immensley. After twenty years of upper back pain I was out of pain and mobile after two sessions with John Lange. He has given me a 'MOT' each year since and I have now trouble now. After a fall I had quite severe low back pain that I struggled with for six month, silly me, John put it right in three sessions. As a GP I have recommended very many patients and all have come back singing their praises. Thank you, keep up the good work.
- Dr Denise L. / General Practitioners, Sutton Coldfield
---
I have suffered from serious back pain on and off for over 40 years. Unfortunatley due to a fall some 10 years ago this became quite severe. I have now tried several specialists who have tried various treatments with differing levels of relief. The only consistent relief I have experienced is through the continous treatment of my visits to John Lange. Frankly at times without that treatment the pain would have been difficult to cope with. Not a solution but mos definatley essential relief.
---
We value our patients' experience at Holly Cottage Chiropractic Clinic. If you are currently a patient, please feel free to complete the following Client Experience Questionnaire. The Questionnaire is in Adobe Acrobat format, and requires the free Acrobat Reader to view.
---